Filling The Void Under Your Home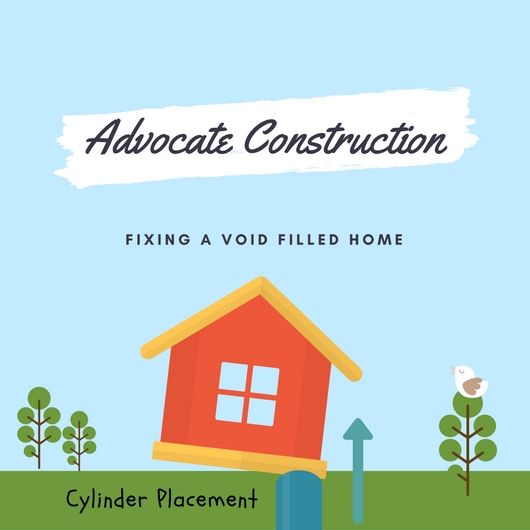 Locating The Void
As in all foundation issues, our very first objective is identifying the location & cause for the void beneath your home. Foundation Repairs are very simple in nature. They are caused by shifting land masses beneath your home's foundation. Oftentimes, this can be due to:
Underground Water Channels that clear out sections of earth as water finds a way to escape
Heaving & Shrinking of soils due to heavy rain and periods of drought
Rapid Temperature Changes that cause the soil to shrink and expand
In order for us to better understand how these voids are created, we've included some information below on the basics of Soil Composition for North Central Texas. These soil conditions are unique to our area and create some tough situations for our customers.
North Central Prairie
Our soils in North & Central Texas are very expansive. They consist of a heavy clay density which absorbs high amounts of water and lets off that water during periods of droughts. This causes highly exaggerated soil behavior when compared to other areas of our state.
Our land zone of North Central Texas rests upon the North Central Prairie. This is an area of land that expands nearly 7 Million Acres and extends as far as the following counties:
West – Wichita Falls (includes Rolling Red Prairies)
East – Parker County
South – Comanche County
North – Southern Regions of Oklahoma
Conveniently (pun intended) the Wichita Falls region lies upon a unique plot of soil known as the Rolling Red Prairies. There are over 1 million acres of land that lie in the Rolling Red Prairie region. These soils consist of "mostly deep, well-drained, brown or reddish-brown, slightly acid loams over neutral to alkaline, clayey subsoils." (*source The Texas Almanac). We invite you to click the below link for a visual portrayal of all of Texas soil environments.
Texas Soil Composition – The Texas Land Almanac
Offering Free Estimates
Understanding our soil composition for the North Central Texas region is very important. It's critical that our customers who are experiencing shifting & settling in their homes understand how these soils behave. The reason being: soil conditions do not repair themselves naturally. Our teams are trained to understand the soil conditions for your region and select the proper tools to handle the job properly.
If you're experiencing shifting, cracking walls, lifting concrete decks or other signs of foundation issues – we invite you to contact us for a free evaluation. Our teams can be at your home within a couple of days to identify the cause for foundation issues and provide you with an estimate for our services.
Trust us, from the clients that we've helped – we've learned that fixing the issue is much easier than letting the issue fester and grow. Oftentimes, the cost for repairing your foundation in the early stages of shifting is much cheaper than letting the issue grow. We may be able to use less intensive measures if the issue is caught early on rather than later.
Selecting The Right Tool
Once we have gotten boots on the ground and identified the cause for the foundation issues, we will inform you of our repair process and the timetable for the repairs. Often times, our crews can be on the job site and complete the repair in as little as a day.
We use various techniques to repair your home's foundation. These techniques vary in degree of technicality but all work to stabilize the slab of your home and bring it to level. Our processes focus on the following steps:
Identify the cause for the foundation issue
Create a free evaluation for the cost of the repairs
Bring your home to level – we gently shift the foundation & reinforce our supports to create a new permanent structure to support the slab for your home
We guarantee our work with a limited warranty – please contact our office for details
Polyurethane Foam Injection
One of our favorite methods of lifting your home's foundation is the application of Polyurethane Foam Injection. We source this product from NCFI Polyurethanes. This product is very advanced in it's benefits and includes all of the following environment conscious benefits:
Ease of Application – ease of mind and very consistent performance for our customers
Scorch Free Processing
No settling or shifting after application
Erosion Resistant
Inter-layer adhesion
Highly versatile in various applications
Environmentally conscious
To understand this application easier, we've included a video of our crews using this product in the field. We trained our teams extensively on the application of this product. Although it's relatively simple to install – it is critical that our crews are properly trained for an accurate install.
An Advocate You Can Trust
Lifting homes is no joke and we take that responsibility very seriously. You will always find our crews inspecting the entire slab of your home before applying the Polyurethane Foam Injection. It's critical that we always first identify the extensiveness of the foundation issue. Oftentimes our shifting and settling is due to the existence of voids beneath our homes.
Our goal is locate the various locations of those voids and apply our products properly to ensure your home does not shift or settle again. It's impossible to prevent 100% of shifting and settling but we use the very best in tools and product application to ensure that our work does it's best to keep you and your home safe.